Doolin
Doolin, once a quiet fishing village tucked away on the north-west coast of Clare on the Wild Atlantic Way. It has become a veritable mecca for fans of traditional music from all over the world and has established for itself an international reputation unequalled anywhere on this island. It might be said that Doolin is to Irish traditional music what New Orleans is to traditional jazz. Doolin is also the start of the Burren, one of the largest and most accessible Karst regions in the world. The Burren is the only place on the planet that Arctic, Mediterranean and Alpine plants grow side-by-side. It's ancient, awe-inspiring stone structures hold secrets from the past that may never be unravelled.
Traditional Music
Clare is quite possibly the most musical county in Ireland and Doolin is the most musical village in Clare. You will find more musicians to the square mile here than anywhere in the world. Walk down the street and you must likely meet a local who has a family member performing in Riverdance. The pubs in Doolin are known the length and breadth of Ireland and across the world. They have become synonymous with traditional Irish music. Gus O'Connor's Pub is just a two minute walk from Sea View House and has live music most nights of the year. There is something special about the local Irish music, which sets Doolin apart.
Doolin Music House is a unique event that takes place three nights a week from April to October. Christy Barry and his partner, Shiela, invite you into their home for an evening of music. Christy discusses the history of traditional Irish music and plays great tunes with his friend, James Devitt. Shiela and Christy create an intimate atmosphere and guests can take part, sharing stories and even singing.
The Doolin Folk Festival takes places every June and the Russell Memorial Weekend in February is held in remembrance of Micho Russell, the world-famous traditional musician.
Doolin Cliff Walk
The spectacular coastal walking trail linking the village of Doolin and the Cliffs of Moher and on to Hags Head and Liscannor starts right outside Sea View House. The full trail from Doolin to Liscannor is 18 km long but the section from Doolin to the Cliffs of Moher is 8km long and takes about 2 hrs each way. Download the Cliffs of Moher Coastal Walk - Map
Local farmer Pat Sweeney has decided to share his local knowledge with visitors to Doolin by offering Guided Walks along the new path to the Cliffs of Moher. The path brings you up close with the natural habitats of the sea birds nesting along the rugged coastline where the Cliffs of Moher meet the Atlantic ocean. There are an estimated 30,000 birds living on the cliffs, representing more than 20 different species.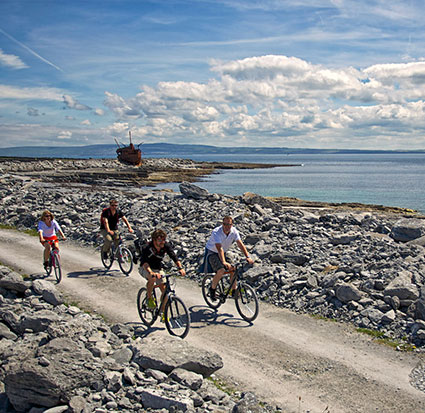 Aran Islands
A day trip to the three stunning Aran Islands is a must. They are an off shore extension of the Burren and are one of the last out-posts of Gaelic civilisation where Irish is still the native language of their inhabitants. Ferries run daily from Doolin harbour, with the crossing taking 30 minutes. Get a 10% discount on all ferry tickets here.
Inis Oirr (Inishere) or "island of the east" is the smallest and most beautiful, with so much to offer. It has all the amenities larger Inishmore but without the hoards of visitors. It is set in glistening crystal clear blue atlantic waters and boasts an amazing beach, rare plants and flowers and a wealth of breath taking scenery. Experience the traditional way of life practised by an Irish speaking community of around 300 as you lose yourself on one of the many narrow laneways that divide small flower filled stone walled fields. The ruins of a 15th century O'Brien tower house built inside an earlier stone fort can be seen from anywhere on the island.
Inis Oirr has so much to offer yet it's possible to explore it on foot but you can also rent bicycles or horse-and-carriage right at the harbour. To eat we recommend Tigh Ned's pub. It has retained its old character and has a great beer garden just 15 metres from edge of Galway Bay.
Staying in Doolin
Doolin offers an excellent range of accommodation that will make your visit truly enjoyable and memorable. Whether you are looking for budget, luxury or alternative accommodation in Doolin, a warm welcome awaits. Choose from Hotels and Guesthouses, B&Bs, Hostels, and Speciality Lodging, as well as holiday rentals and campsites. Doolin has an ample range of Fáilte Ireland Quality assured accommodation available to visitors. Every host will be delighted to welcome you.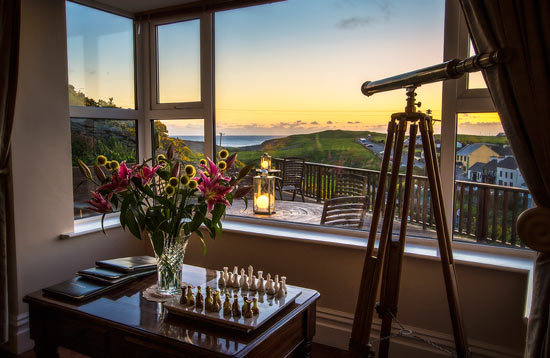 Sea View House in Doolin offers no shortage of spectacular sunsets and luxury accommodation. Offering luxurious boutique guest accommodation, award-winning food and impressive local knowledge combined with our unbeatable locations in Doolin Village, Sea View House will ensure you have an amazing time during your vacation in Doolin.
Their farm-to-fork award winning breakfast is the perfect way to start your day in Doolin. Enjoy home grown, foraged and locally supplied food from the Burren and Cliffs of Moher Global GeoPark.

The Lodges @ Sea View House offer two stunning private lodges within Doolin village, with hot tubs, available separately or combined to accommodate up to 10 guests. Perfect for family and friends to enjoy time together and explore our beautiful landscape.
Each lodge is fully equipped and comfortably furnished for the ultimate luxury getaway. Each has a private entrance and outdoor terrace or deck with hot tubs and castle views. You can choose to include our freshly prepared and locally sourced Burren Breakfast Buffet, which we discretely deliver to you each morning.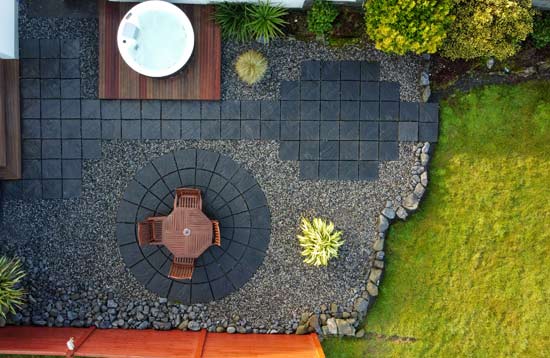 Dining in Doolin
You will be sure to eat well during your stay in Doolin.
Anthonys Restaurant is an excellent choice. Anthonys draws its inspiration from the Burren – its local farmers and growers of fresh produce.
The Ivy Cottage set by the river in beautiful surroundings its best known for their chowder and freshly sourced fish and hand cut chips.
Gus O'Connor's Pub on Fisherstreet, this is one of Doolin's four pubs. Food is served daily and features seafood and interesting specials.
Oar Restaurant an authentic fine dining experience with a rustic twist using the finest local produce. Relax, chat and enjoy.
Dining in and Dining out in Doolin has more details on all your dining options.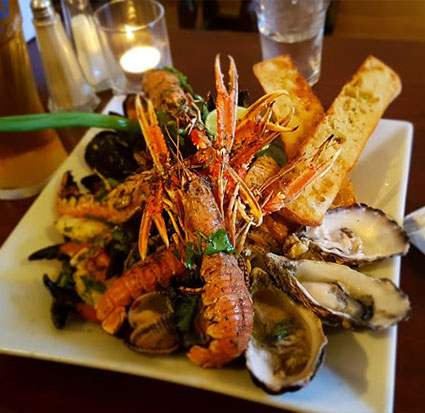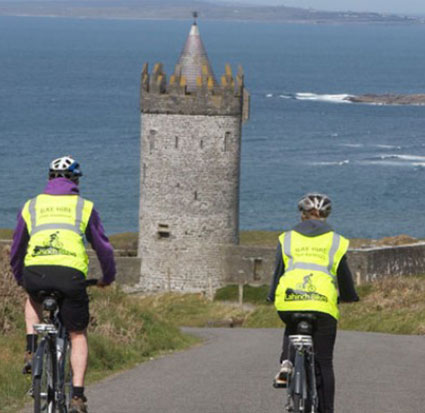 Getting Around
You can hire electric bikes from E-Whiz in Kilfenora. You will be supplied with everything you need. The North Clare Cycle network has Doolin as its hub.
If cycling is not your thing we can recommend private chauffeurs and tour guides as well.
Private Drive Chauffeur Services, including airport transfers
Burren Tours can provide customised day tours of the area